Bees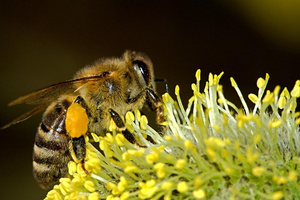 A life without bees (from Wild Animals magazine)
Picture Earth. Most of us will imagine a blue and green ball floating in space. While the blue comes courtesy of water, the green is from our rich diversity of plant life. With around 80 per cent of flowering plants – and crops – relying on pollinating creatures to survive, we'd be imagining a very different planet if bees were no longer a part of it.
Read the full article here
.
Bee Friendly Gardening:
We can't live without honeybees. Many crops of vegetables, fruit and flowers depend heavily on pollination by bees. It is estimated that without bees we would lose at least two thirds of our food. This article has lists of different plants to plant to help feed the bees as well as other useful tips to help care for our bees.
Read the full article here.
See also: