Fiona O'Brien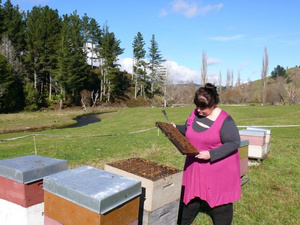 Fiona O'Brien along with her husband Jeremy are owner operators of Beeline Apiaries Limited, based from Otorohanga.
Jeremy started Beeline Apiaries over 40 years ago. Fiona joined the crew by marrying Jeremy. Both have beekeeping in their blood, and enjoy working with the bees.
Fiona is a Dual Member of ApiNZ, and Life Member of Eastern Apiculture Society - USA, and current member of IAPF (International Assn Food Protection). She especially loves to talk about bees and encouraging beekeepers to really see what is going on within the hive.
Fiona's Great Grandfather and her Great Uncle had bees in West Auckland, where they sold their Manuka honey of the day to the local chemist for coughs and cold preparations.